Welcome to the Riders Radio Theater Wikia
Edit
This is an exhaustive catalogue of Riders Radio Theater - the variety show/radio drama recorded by the Western music group Riders in the Sky. Which songs are in which episode? Which characters are in which plot line? Find all those answers here. This wiki is updated pursuant to the weekly episode re-release on Soundcloud. If you have information about episodes not yet re-released, please add it! Before editing, please take a moment to check out our Rules and Guidelines.
Listen to the latest episodes from the official Riders Radio Theater Soundcloud
Edit
What is Riders Radio Theater?
Edit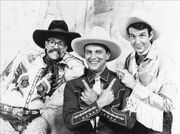 Main Article: History of Riders Radio Theater
Riders Radio Theater was a broadcast radio show written by and starring Riders in the Sky from 1988 to 1995. It was originally recorded primarily in Nashville, TN and Cincinnati, OH, always in front of a live audience. The Riders in the Sky - Ranger Doug (Douglas Green), Woody Paul (Paul Woodrow Chrisman), Too Slim (Fred LaBour), and later Joey the Cow-Polka King (Joey Miskulin) - were joined by host Texas Bix Bender (Steve Arwood) and numerous Country and Western music guests to present half an hour of "high yodeling adventure" every week on National Public Radio stations across the United States. From high-energy musical numbers to recurring comedy bits, the show is a tribute to the tradition of both the great singing cowboys and the elaborate radio shows of yesteryear. Though Rider Radio Theater was cancelled decades ago, Riders in the Sky have recently begun re-releasing episodes at the rate of one per week on both Soundcloud and iTunes podcast. 
Latest activity
Edit
Photos and videos are a great way to add visuals to your wiki. Find videos about your topic by exploring Wikia's Video Library.
Community content is available under
CC-BY-SA
unless otherwise noted.